Strategic management - key issues. 2nd Warsaw SYNERGIA session, July 5-6, 2022
On July 5-6, 2022, the 2nd session of the 3rd edition of the SYNERGIA project takes place.
The session is attended by representatives of public administration institutions from Poland, Bulgaria, Latvia and Hungary.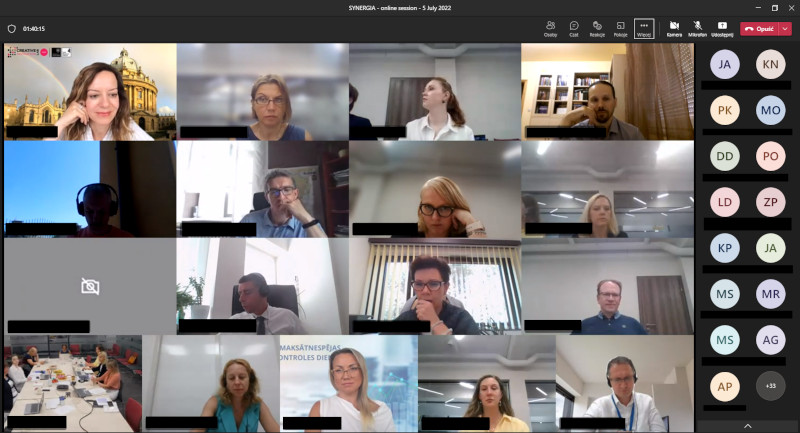 2nd training session
The aim of the session is to familiarize participants with the key concepts of strategy, digitization and innovation, transformation through technology and big tech. The program includes classes in the area of ​​strategic management, technology management and the use of IT in the public administration sector.
Understanding and using the key concepts and framework of the strategy and developing a better understanding of the strategic goals of a public institution significantly increases the effectiveness of its functioning. The vast majority of entities in the private sector have developed a mission and vision for their development. In public administration, this idea breaks through slowly and often, even when implemented, remains an incomprehensible, formalized provision on paper. In this matter, it is essential to have a common understanding of the developed vision by all employees of the organization, and as a result, unity in the activities of employees – each team member works for a common success defined in the vision of the public administration unit's activities.
How to do this? How to set a consistent development direction that is understandable for the organization? What tools should be used to improve the functioning of the organization and achieve a higher level of efficiency, while providing adequate services to citizens, businesses and other entities interacting?
These are just some of the questions that session participants will be asking themselves while looking for answers during workshop discussions and the analysis of the presented cases.
Form of implementation
The session is carried out online, on the MS TEAMS platform.
Purpose of the project
The aim of the SYNERGIA project is:
preparation of a new educational and cooperation program on the basis of a cooperation network of management staff in public administration from Central and Eastern Europe,
implementation of management solutions developed during the implementation of the program in the institution participating in the project selected in an internal competition.
Project financing
The project is co-financed by the state budget and European funds under the Knowledge Education Development Operational Program 2014-2020, co-financed by the European Social Fund.
More information about the project: www.synergia.ksap.gov.pl