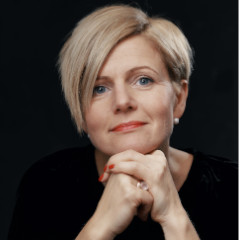 Country: Latvia
Fields of specialization: leadership development, executive coaching
Expert lecture in SYNERGIA: transformation literacy
---
Žanete Drone is an Executive Coach and Leadership consultant at INSEAD, France. She is designing and running integral coaching and leadership development programs both for individuals and groups globally. In Latvia and internationally she covers a large variety of sectors ranging from banking, pharmaceuticals, information technologies, telecommunications industries and government sector.
Mrs. Drone entered the organizational development field 15 years ago after a successful career in communications. She was the head of media and government relations for a major telecommunications operator and chaired the office of the Minister for Finance of the Republic of Latvia. She also successfully established and managed a communications agency. Her personal and professional curiosity brought her to discovering her purpose and expressing her authentic voice in personal and organizational development and leaving the corporate and government career behind.
Mrs. Drone experienced directly having to cope with ambiguity, uncertainty and complexity caused by the disruption of the social, economic and political system.
She has seen and lived the impact of the emergence of a new system on individuals, groups and society at large. This has driven her passion for change and development of collective consciousness.
Mrs. Drone is a fully credentialed Integral Master Coach from Integral Coaching Canada and also a certified MBTI practitioner. Having studied social work and pedagogy she holds a Master degree in Social Sciences from the University of Latvia and a Master degree in Communications from Leicester University in UK.
At the moment she is in her 3rd year in a Swiss-Latvian program Via Integralis to become a meditation teacher in 2022.
Mrs. Drone has taken a leading role in establishing a social enterprise in Latvia with the mission of making the personal and collective transformation literacy available to as many people in Latvia as possible.