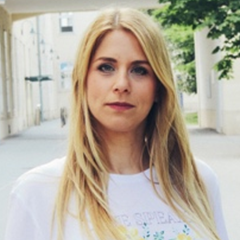 Country: Hungary
Fields of specialization: leadership development, international business, coaching
Expert lecture in SYNERGIA: cultivating leadership essentials
---
Marta Pataki is an executive coach, trainer, organizational developer and lecturer focused on resolving inconsistencies between business rationale and emotions.
Mrs Pataki has a background in institutional corporate real estate. She worked and held various senior management positions at major international real estate firms between 1999 and 2017.
Mrs Pataki acted for Cushman & Wakefield, TriGranit, CBRE and Immofinanz AG and most of her work had a regional focus on CEE countries. She is an expert in asset management and leasing of large-scale retail schemes. In her last position, she had overall leasing responsibility for a portfolio of €1.5Bn including 80+ assets in 8 countries.
While acting as a business leader she got fascinated by the human side of management and eventually turned her career into HR and human development. Today she is deeply engaged in finding keys to leadership.
She is a lecturer of Leadership Skills for MSc in International Management and Leadership students at Lauder Business School in Vienna, Austria since 2018.
Her activities are based in Vienna and Budapest with a global application. She is a certified Cognitive Behaviour Therapy based Business and Life Coach. She holds a first-class degree in Business Studies from Oxford Brookes University and an MSc in Real Estate from Nottingham Trent University. She is a member and assessor at the Royal Institution of Chartered Surveyors since 2008.
In Synergia, Mrs Pataki will run a course on cultivating leadership essentials.