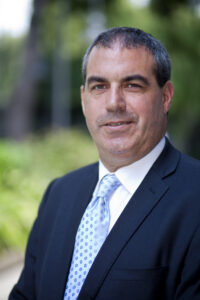 Fields of specialization: strategy geo-politics, and sustainability
Courses in SYNERGIA: strategic management in public administration
---
Mike Rosenberg is an Assistant Professor in the Strategic Management Department of IESE Business School. He began teaching part time in the MBA and Global Executive programs in 1999 and joined the faculty on a full time basis in 2003. Professor Rosenberg lectures in IESE's MBA and Executive Education programs where he teaches strategy, geo-politics, and sustainability and publishes a weekly blog on these topics under the title Doing Business on the Earth.
His first book is an exploration of the link between business and the environment titled Strategy and Sustainability (Palgrave Macmillan, 2015) and looks at the issue more from the perspective of business executives rather than that of environmentalists. The second book is titled Strategy and Geopolitics (Emerald, 2017) and is written to encourage business leaders to pay more attention to what is happening around the planet. Both books offer his own frameworks for looking at these two issues.
From 2004-2009, Professor Rosenberg also managed IESE's International Executive Education Unit and is currently the Academic Director for the Advanced Management Program in Media Entertainment and has co-edited Managing Media Businesses (Palgrave Macmillan, 2017) which is based on the course. Rosenberg is also Academic Director of Short course called Leading in a Matrix Organization at IESE's building in New York City as well as a number of Custom Programs for corporate clients of the school.
Prior to join IESE Business School, Rosenberg was the Automotive Practice Leader of Heidrick & Struggles and before that spent 15 years as a Management consultant in Europe, North America and Asia for A.T. Kearney and for Arthur D. Little primarily in the automotive sector.
Professor Rosenberg received his PhD. from Cranfield University, an MBA from IESE Business School, and a Bachelor of Science (Naval Architecture) from the University of Michigan at Ann Arbor.
In Synergia prof. Mike Rossenberg will run a course on strategic management in public administration.