Synergia - 3rd training session in Budapest, Hungary
On August 29-31, 2022 the third training session is held in Budapest, as part of the third edition of the Synergia project. The session is attended by representatives of public administration from Poland, Bulgaria, Latvia and Hungary.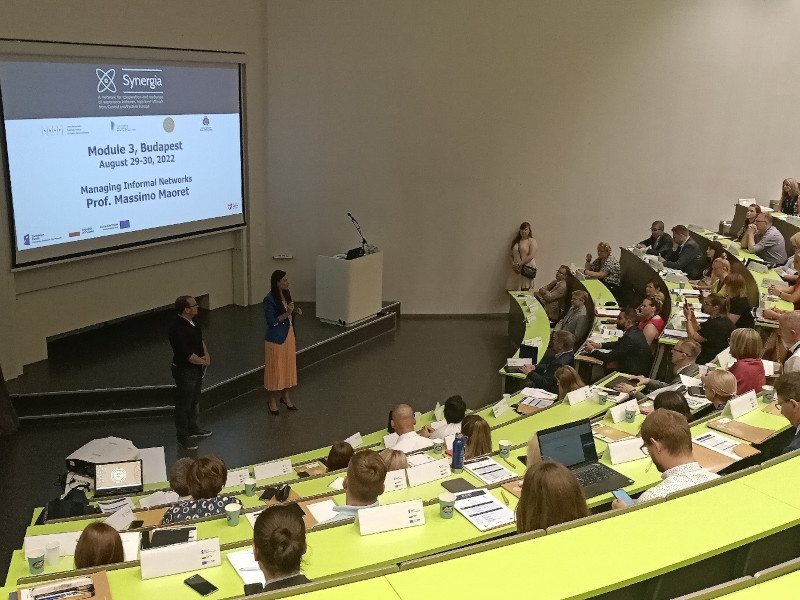 Program
The session program includes activities in the following thematic areas:
networking,
management of informal networks,
leading change,
leadership development in the organization.
The aim of the session is to understand the difference between developing a plan and "putting it into action" within an organization, and to understand the specific challenges associated with transitions between different levels of leadership. During the session all the critical aspects ensuring a successful organizational change will be discussed.
During the course, participants will analyze the process of organizational change and look for answers to questions about the basics of relational power, the advantage of informal networks over formal ones, the role of various types of social relations in organizations and how to navigate in organizational policy.
An important aspect of the training will be working on developing the ability to analyze your network of contacts, use the network effectively, develop a strategy for change, use specific tactics as a catalyst for change and overcome resistance to change.
Planning and using the above techniques presupposes conscious leadership, therefore the participants will also focus during the workshops on the different levels of leadership, time applications and work values ​​required in the transition to a different level of leadership. They will pay attention to possible transition pitfalls and will be better prepared to assess their degree of alignment with the requirements of their current level of leadership.
The session is co-organized by the project partner – University of Public Service from Hungary.
The aim of the Synergia project
The aim of the Synergia project is:
preparation of a new educational and cooperation program on the basis of a cooperation network of management staff in public administration from Central and Eastern Europe,
implementation of the solutions developed during the implementation of the program in practice.
Project financing
The project is co-financed by the state budget and European funds under the Knowledge Education Development Operational Program 2014-2020, co-financed by the European Social Fund.
More information about the project: www.synergia.ksap.gov.pl