Synergia - 7th session in the 3rd edition
On January 11-12, 2023, the 7th session was held as part of the 3rd edition of the SYNERGIA project. The online session was attended by representatives of public administration institutions from Poland, Bulgaria, Latvia and Hungary.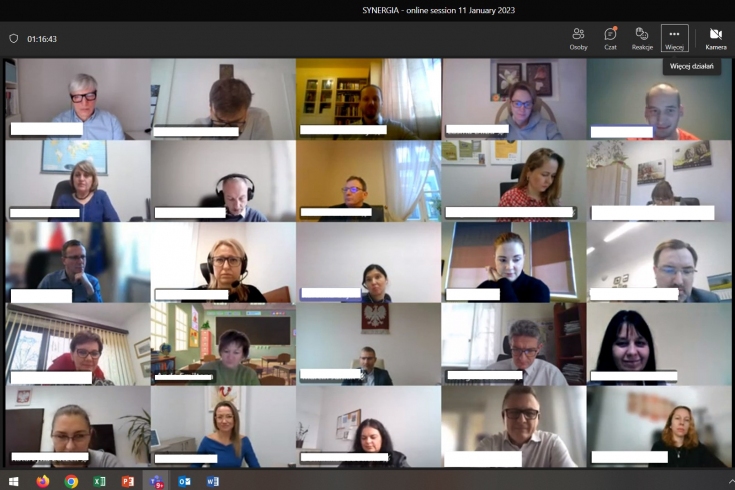 7th training session

The session program consisted of two parts: the first part of the meeting was a peer learning session and the second – an educational session, the main theme of which was risk management.
The aim of the peer learning session, which will be continued at the beginning of March this year, was to exchange the experiences of the participants' representatives in terms of the possibility of implementing good practices, presented during previous Synergia training sessions, in public administration institutions. The second part of the peer learning session will take place during the last – 8th session of the 3rd edition of the Synergia project, on February 27-03, 2023, at the headquarters of KSAP.
As part of the educational part, classes were carried out in the following thematic areas:
strategic management in public administration in the context of risk management,
risk management – process,
leadership in risk management.
The aim of the educational part was to provide tips and tools to reduce the risk of making bad decisions and their implementation in public administration. Participants of the session took part in a simulation game, the aim of which was to prepare and properly react to crisis situations.
"Senior leaders play a key role in addressing risk in public administration and its role in achieving its purpose. Their task is to formulate well-thought-out risk strategies for the organization and to make critical choices regarding their implementation. However, these tasks are not trivial tasks. And successfully guiding an organization through critical moments where risk materializes is an even less trivial task. During the session, we will look at both of these issues."
Prof. M. Maedler
https://synergia.ksap.gov.pl/en/lecturers/prof-markus-maedler/
Form of implementation
The session was carried out online, on the MS TEAMS platform. Classes were held from 9:00 to 17:00.
The purpose of the project
The aim of the SYNERGIA project is:
preparation of a new educational and cooperation program based on the cooperation network of public administration managers from Central and Eastern European countries,
implementation of the management solutions developed during the implementation of the program in the institution participating in the project selected in an internal competition.
Partners
The project is implemented in a transnational partnership:
National School of Public Administration named after President of the Republic of Poland Lech Kaczyński (KSAP),
Bulgarian Institute of Public Administration (IPA),
Hungarian University of Public Service (UPS),
Latvian School of Public Administration (LSPA).
Project financing
The project is co-financed from the state budget and European funds under the Operational Program Knowledge Education Development 2014-2020, co-financed by the European Social Fund.
More information on the project: www.synergia.ksap.gov.pl