SYNERGIA's 1st training session has already taken place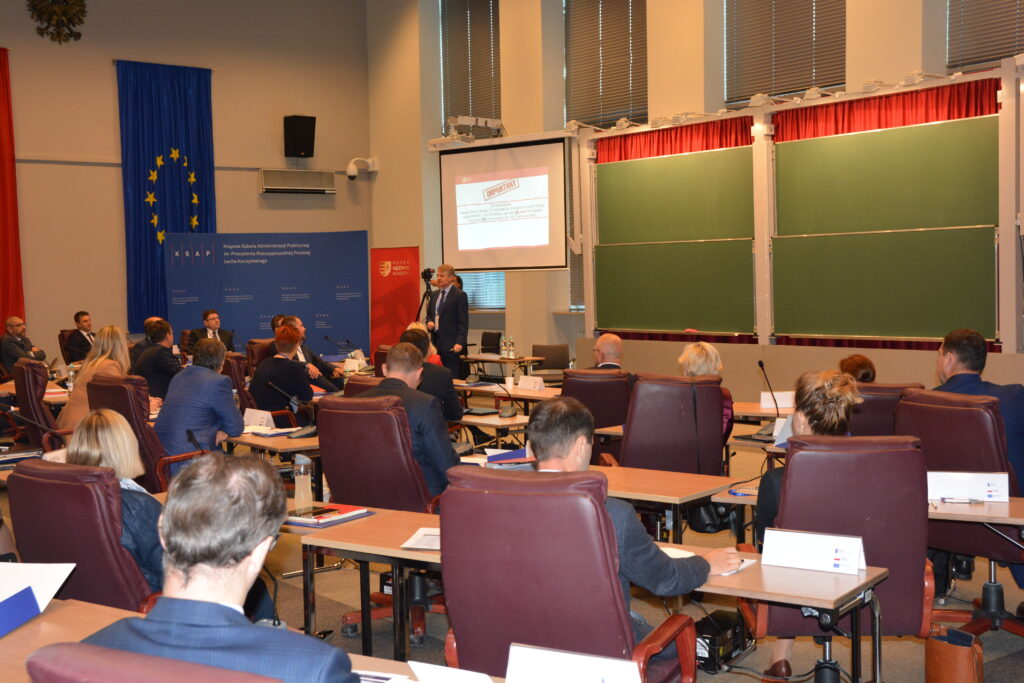 First session took place in Warsaw
On Monday, August 31st 2020  the first session of SYNERGIA has started. The trainings were held over the whole week, until Friday September, 4th.  It was the first meeting of high-level representatives of public administration selected from three Central and Eastern European Countries.
Programme
The session program included activities in the following thematic areas:
risk management,
human resources management,
management by objectives,
use of ICT in the public sector,
and knowledge management.
The training sessions encompassed both plenary sessions moderated by foreign professors, as well as teamworks – group work during which the participants discussed case studies prepared in accordance with the Harvard Business School methodology. The first session of SYNERGIA was an excelent occasion for participants to share their own experiences in the field of management, with a special focus on the topics mentioned above.
Participants
Representatives of the institutions listed below were qualified to the 1st edition of SYNERGIA.
1) Institutions from Poland
The Patent Office of the Republic of Poland
Łukasiewicz Center in a consortium with Ministry of Development
Warmia and Mazury Voivodship Office in Olsztyn
Ministry of Justice in a consortium with the Institute of Justice
The Chancellery of the Prime Minister
2) Institutions from Bulgaria
State Agency for National Security (SANS)
Executive Forest Agency – Ministry of Agriculture and Food
Ministry of Defence of the Republic of Bulgaria
Ministry of Transport
3) Institutions from Hungary
Ministry of Foreign Affairs and Trade
4) Institutions from Latvia:
Ministry of Transport
Ministry of Culture
Ministry of Education and Science
Ministry of Economics
Ministry of Justice
The form of the session
The session was carried out in a hybrid form. Representatives from Latvia and Hungary participated in the online session, while representatives from Poland and Bulgaria participated in the session organised at the headquarters of KSAP.
Date of publication: September 11th 2020