Synergia – 6th -session training in Warsaw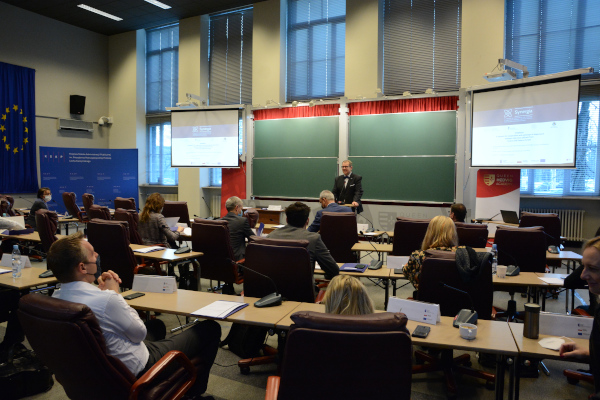 On 1 – 3 December 2021 sixth training session – stationary session, took place in Warsaw at KSAP.   The session was attended by representatives of public administration from Poland, Bulgaria, Latvia and Hungary.
Program
The session program includes activities in the following thematic areas:
The use IT in public administration
Project management in public administration
Risk management
The purpose of the session was:
learning about the principles of managing the digital transformation of the organization,
emphasizing the importance of IT architecture in institutions;
introducing the topic of Agile culture development in the organization;
project life cycle analysis, including planned, implementation and monitoring of project effectiveness;
presentation of tools limiting making wrong decisions in key areas of organization management.
Course of the session
During the session, project participants analyzed the process of creating an entity's digital transformation strategy and managing digitization in a transforming organization, using appropriate management and leadership styles. During the classes on project planning and management, the project life cycle was monitored and appropriate tools were selected to manage each stage of the project. The agile methodologies recommended by the leaders were analyzed in terms of barriers to their use in public administration. Considering the options of risk management, participants learned about effective tools for risk analysis and minimizing its impact on the implemented project.
The session was marked by the Harvard case method – and was carried out in compliance with social safety standards.
The aim of the Synergia project
The aim of the Synergia project is:
preparation of a new educational and cooperation program on the basis of a cooperation network of management staff in public administration from Central and Eastern Europe,
implementation of the solutions developed during the implementation of the program in practice.